AUTHORS NOTE: We have been truly humbled by all the love and support that we are seeing from our community in helping us stay in business during the Covid-19 pandemic. Although the article was written pre-Covid, the following is a true testimony that all the practices we had in place and the relationships we have built have come back to us 10 fold! All of our clients have been incredibly patient and kind, adjusting to the new normal of curbside pickups, no contact residential only deliveries, and limited flower selections.
We are grateful, thankful, and blessed that we have been able to stay afloat bringing a little joy through flowers as life's celebrations of birthdays, anniversaries, new baby's, etc…. were not cancelled!
How to Cultivate and Increase Foot Traffic to your Flower Shop!
It can be unusual for a flower shop to have a great amount of walk- in traffic when its brick and mortar sits off the beaten path. The Dizzy Daisy in Orange, California, is not an exception! We had to think out of the box and get creative to fight for that piece of the pie, and achieve what seemed to be the impossible! Cultivating walk-in traffic means going above and beyond, surprising and delighting new customers, as well as retaining the customers who are already established! The Dizzy Daisy is situated about a mile and a half from the famous hub of Orange, CA, called The Circle! This main street is filled with many unique shops, restaurants, and is home to Chapman University. It is busy and bustling with locals, college students, and tourists. But how do we redirect this traffic over to our side of the town?!
A few easy steps of strategy and we became the most visited neighborhood florist!!
Community Outreach
Store Charity Drives
We reach out to local charitable organizations and host a charity drive in-store about 3-4 times a year in which we become the official drop off location! This gives us the opportunity to give back to the community and gain brand new customers to our location.
Sponsor a Local Team or Pageant
We are the official florist sponsors of the local city scholarship pageant for the Miss America organization. We provide the bouquets for the winners and runner ups. We also utilize the title holder throughout the year for in-store events, photo shoots, etc…In turn they promote our business which results in new clientele coming to the shop. These young women become lifelong friends and clients, and as they move out of the pageant world we find ourselves providing floral for their weddings, baby showers, etc….
Community Involvement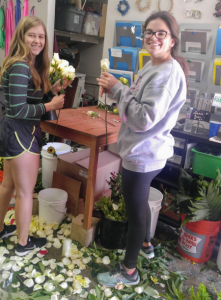 Join your local Chamber of Commerce, Kiwanis Club, etc…
For us, it was getting involved with the Chamber of Commerce, this has allowed us to work with them on several events, such as the State of the City Annual Breakfast where we design centerpieces for a ball room full of tables, to the City May Day Parade, in which the parade Queens carry bouquets of blooms…. with both scenarios, community business members see our work first hand, business cards are handed out, resulting in new customers and their clients who visit the shop!
Offer Internships for Class Credits to Local College Students
If you have a local Jr. College or a University in your area, utilize theirJoin your local Chamber of Commerce, Kiwanis Club, etc…-internship program. With your students involvement and affiliation with the school, it immediately opens up the door for new walk-in traffic in the shop. We have been very successful as many of the departments, sororities, faculty, and alumni, have become our accounts and exclusive customers. The upside is that you have the opportunity to be a mentor, make a difference in a career choice, learn from the students, and it doesn't cost a dime and the reward is priceless! Make a difference!
Customer Relations
Connect Personally with Each Customer

It's all about stellar customer service and establishing a personal relationship with your customer. It's their in store experience that brings them back! Make them feel like family, remember birthdays, anniversaries, etc.
Offer a loyalty punch card program
Give your local community and customers incentive for return business!
Hold Workshops
Flower arranging, Seasonal projects, etc. are all great ways to establish relationships with your community and customers.
Business to Business Referrals
Know your neighbor businesses, put small arrangements in their shops with your info, specials, holidays…….. Work with your mutual wedding vendors promoting each other, offer vendors that do not have a brick and mortar to meet their clients at your business. Reach out to local businesses and do events together or team up with a charity and cross promote each other!
With all these different ways to bring in more walk in traffic, remember the main reason many consumers frequent small businesses is for the personal relationships! A smile, personable service, product knowledge, genuine care for the community, and enthusiasm for what you do, will bring customers through your door and keep them coming back!
About Dana Rice – Owner and Designer of The Dizzy Daisy. An Orange County native, I discovered my passion for floral design at an after-school florist job at age 18. I have worked my way up from washing buckets to owning The Dizzy Daisy in Orange, CA.

"I LOVE what I do, I love creating arrangements that will make people happy, smile or even something to warm a sad heart. I'm thankful for every day I get to do what I love." – Dana Rice
Interested in contributing to Florist Insider?
Please apply HERE