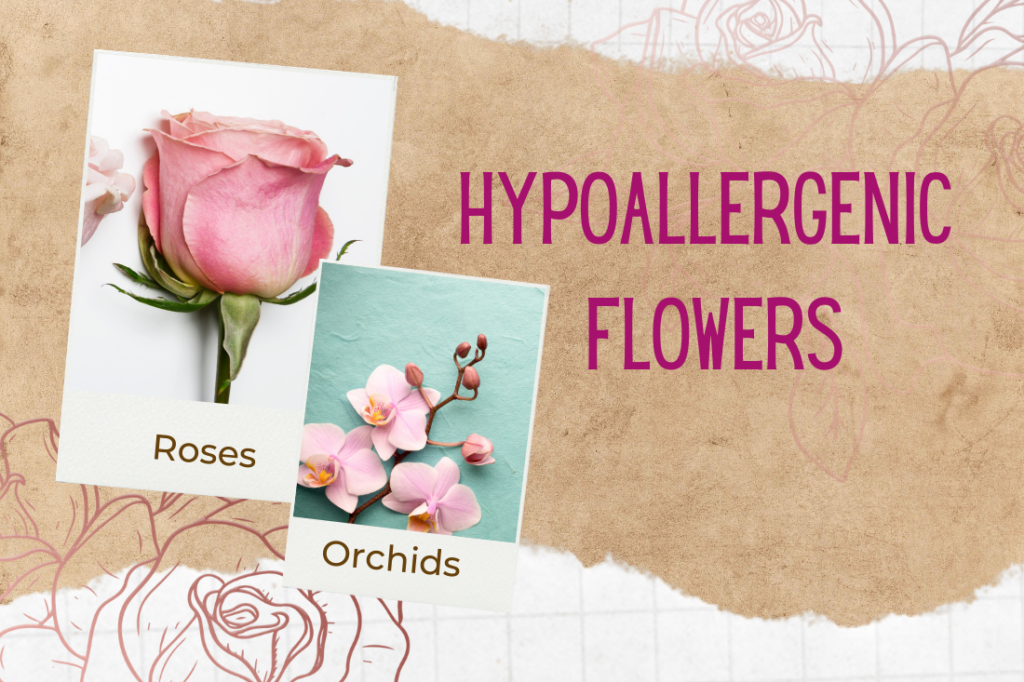 Suffering from allergies? Don't miss out on the thrill of receiving beautiful arrangements. Learn about the best hypoallergenic flowers!
If you're in this predicament, because you want to buy flowers, but don't know the safe ones to get, these tips should help clear up confusion and the sniffles in no time.
Let's start with the best hypoallergenic flowers for people with allergies
Orchids – These are long and eloquent, without excessive amounts of pollen. When you think of orchids do you only imagine a potted plant? Check out this gorgeous orchid arrangement by Watanabe Floral, a local Honolulu florist. Orchid arrangements are commonly available nationwide. On BloomNation, you can find local florists in your area delivering orchids.
Roses – The beautiful, soft petals come without the center that's most dreaded – pollen.
Pollen-free Lilies – Yes, these exist. Horticulturists cultivate special breeds that are usually available at your local florist.
Carnations – In arrangements, carnations come without the center that attracts bees (the pollen).
Other amazing hypoallergenic flowers that are friendly for sensitive folks include Irises, Dahlias and Begonias.

Now, on to the worst flowers for allergies.
Jasmine – Some individuals really like the heavy scent of Jasmine, but most will be sent on an incessant bout of sneezes.
Dusty Miller – As the name implies, the dusts of pollen can become overbearing.
Sunflowers – The comparatively large center, as opposed to more miniature flowers above, is laden with pollens. Keep sunflowers away from allergen sufferers – at all cost.

What to Know About Lily Allergies?
Lilies are dubbed the worst for pollen allergy sufferers. Alternately, removing the pollen from the bulb or getting pollen-free varieties (listed above), can be easily used for those with history of hay fever and other types of allergies.
Flowers that are strongly fragrant, or that carry too much pollen are sure signs they might be bad for those with allergies. Even if you're not necessarily prone to allergies, but are hosting events like a wedding or party, it's best to buy flowers that are in the safe zone for guests who may have these allergies.
Ask your local florist for pollen-free flowers, or recommendations for the best kinds for hypersensitivity. Allergy-friendly flowers are plentiful. You just have to put in a little research to find them.